This is for the traditional style Venison Wellington, best enjoyed while still warm with a venison gravy. We've made it super simple for you but you can up your game by making your own pastry or try our recommended Liver Pate recipe too.
We used ready rolled puff pastry to make the whole process faster and easier and it's naturally dairy free which is good news in our house of allergies. Simply make your own if you're not into the ready made stuff!
Ingredients
Ready Rolled Puff Pastry
Venison Fillet
Pate of your choice (Ready made or make your own)
Flour
Eggs
Water
Mustard
Method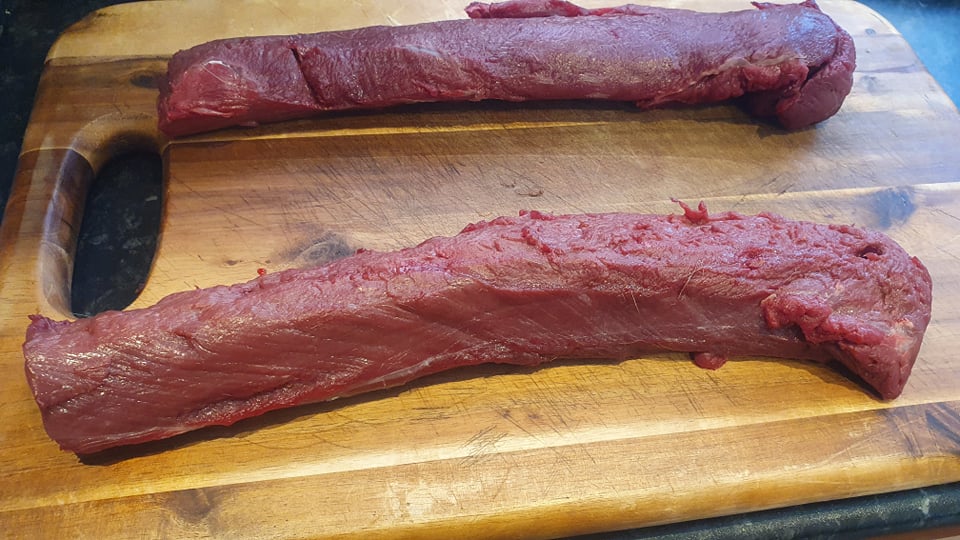 First prepare the fillet by searing in a very hot pan to seal all the edges. Cover with a layer of mustard (a brush is good here) and wrap in cling film while still warm. Place in the fridge to chill for at least 30 minutes.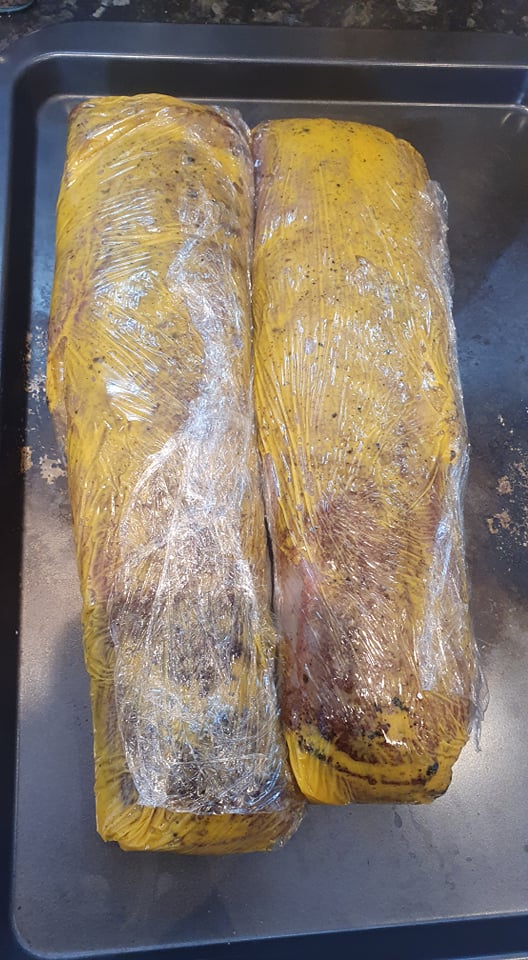 Once cooling in the fridge, make up some rectangular pancakes/crepes by pouring a batter mix using flour and water (with optional egg), onto a rectangular flat baking tray lined with baking paper. Bake in the oven at 200 degrees for a few minutes until set.
Take out and peel the pancake off the baking paper. Place onto 3 layered sheets of cling film.
Spread your chosen pate over the pancake in a thin layer.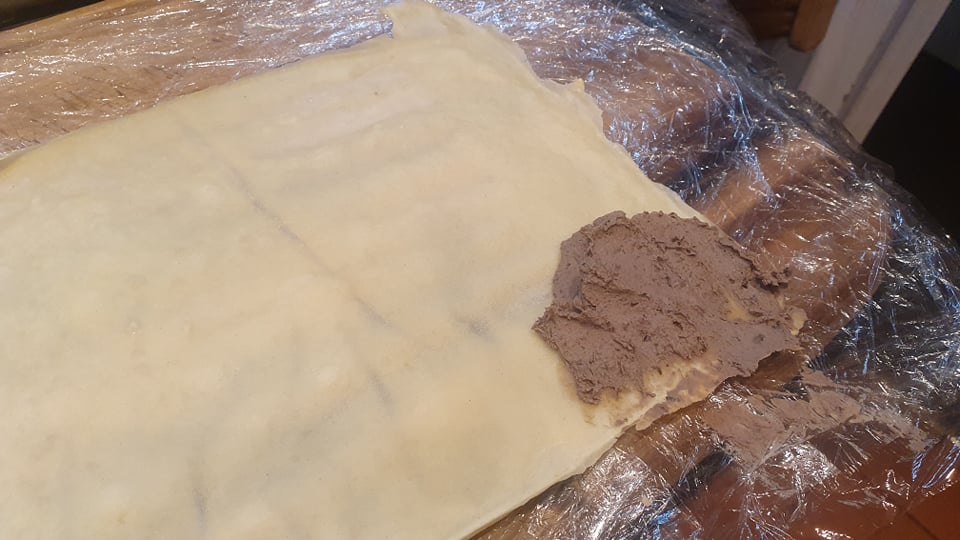 Remove the clingfilm from your seared and chilled fillet and place it in the centre of your rectangle. Use the 3 layered clingfilm to wrap the pancake around the fillet and seal it in. Chill again for at least 30 minutes.
Roll the puff pastry so that it is thinner (approx half the thickness it starts our as). Take out your chilled fillet parcel and place it in the centre of the pastry. Trim the corners of the pastry so that it can be wrapped without excessive overlapping of pastry layers.
Wrap one side of the pastry over your parcel of fillet. Brush the top of it with egg and all the other sides of the pastry.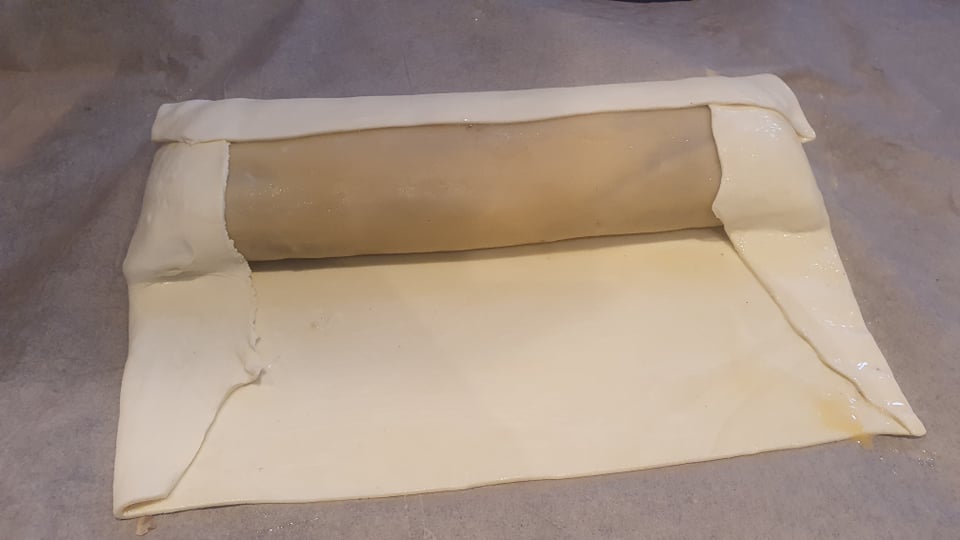 Continue wrapping the parcel until it is complete.
Brush the top with more egg.
Chill for up to 24 hours or overnight as it is (no clingfilm).
Use the back of a knife and score the top of the pastry.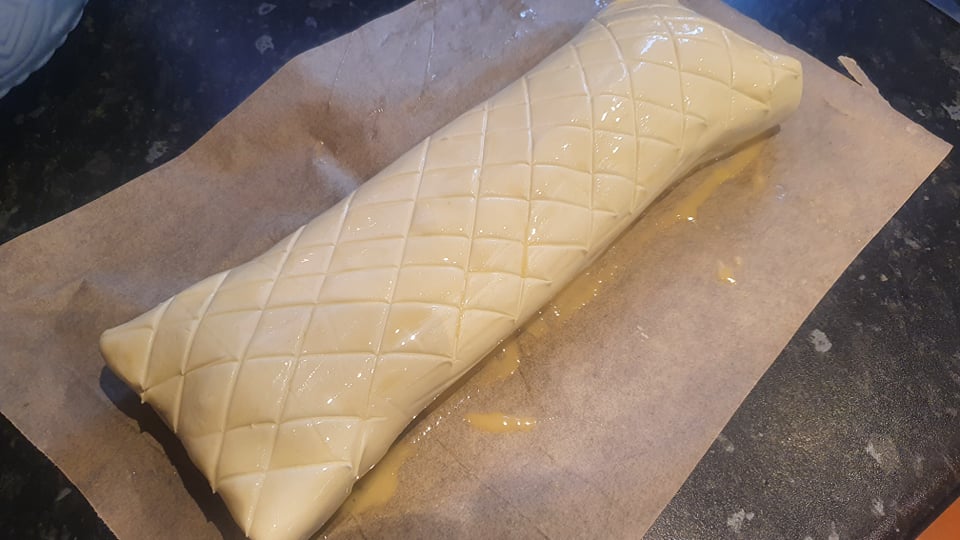 Place in the oven at 200 degrees for 30 minutes. Then remove and let the wellington sit for at least 20 minutes. It should be just slightly pink in the middle and moist. Only cut the wellington when you intend to serve it to avoid it drying out.