The Process of Ordering Game
While it is obvious that hunted meat differs from farmed meat, it is important to realise what this means for the consumer. Our stalker cannot hunt according to orders, and the deer obtained will vary in size, species and quantity; for this reason, most orders are made in advance, with the expectation of being filled within a few days, on a first come – first served basis. You will only be able to order meat the hunter is currently shooting, with out of season or unavailable animals being "sold out".
Wholesale venison will be packaged according to your order choice (plastic or plastic free) in vacuum seal bags to maximise the freshness and prolong your storage options, before being chilled until they are either collected or delivered. We will let you know when it is available for collection, or arrange a delivery slot.
If for whatever reason you cannot collect in a timely manner, we will try to accommodate you by freezing your meat, or provide a different animal on a day that works better for you.
It's obviously a faff, and we appreciate the patience of our customers – but this is the only way to maintain that very high ethical standard of only shooting appropriate animals at responsible times of the year. You will always know where your animal comes from and when it was shot.
All our deer will be "tagged" by the hunter, which means they are traceable to a point of origin, a shooter and a date. If you would like to see the tag, feel free to request it. We put as much information as possible on our labels including cut type, weight, tag number, date killed, date butchered and date packaged as well as deer species and sex.
The stalker will normally gut the deer right away, after which it can hang in his chiller for some time without issue. We collect as many animals as possible per trip, saving petrol and cutting down on costs.
Butchery & Packaging
Our butchery team will then take 1-2 days after the game is dropped off to process the orders. We will:
Skin the deer
Seperate the deer into cuts
Weigh the cuts
Vacuum seal the venison
Label the sealed packets with weight, cut, butchery date and kill date (for traceability).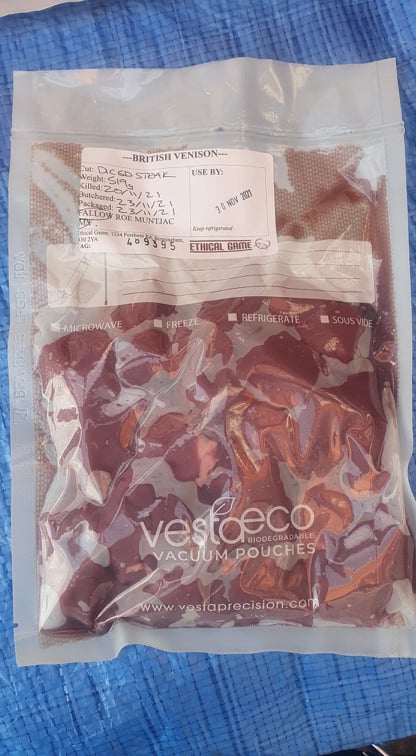 As the venison will be vacuum sealed it will stay fresh for longer and can be refrigerated for 10 days before use – meaning more freezer room for you! If you do pop it in the freezer it can last for up to 1 year in the freezer without suffering freezer burn – it should be noted though that the vacuum often breaks when the meat is defrosted, which means that after coming out of the freezer it will only last a few days in the fridge.
Please do bear in mind that our deer is shot.
It might be obvious but it feels to important to mention this because at least on part of the animal, usually the neck or shoulder, is damaged. We account for this when butchering the animal by dividing the meat up as equally as possible between the two halves. In a fallow (a pretty large animal) this is not a big problem, but in a muntjac (which is tiny), it can mean you don't get very much neck, or one of the shoulders is basically destroyed. We'll discuss any such problems with you, and we'll pass on any discount the stalker gives us for a badly damaged carcass.
Location
The deer is butchered in our custom built outdoor preparation station at 1234 Pershore Road, B30 2YA. Butchery usually takes place within an hour of skinning, and is completed within one to two hours, depending on species. We do not currently have a high street premises so collection is by appointment only. We have some behind the scenes videos to help you see what it's like inside the facility and how we handle orders as well as other related processes in the future.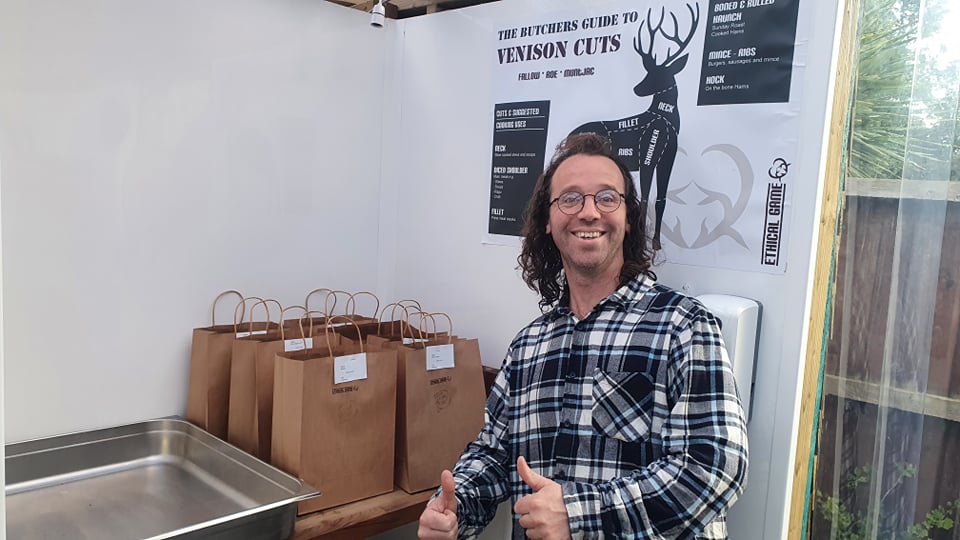 Deliveries
Once we have your order, our stalker will work to fulfil it as soon as possible. We will endeavour to collect deer approximately once a week to fulfil these orders. Orders will be processed oldest first, and the customer will be notified when their order is due to be delivered. Please ensure you leave the correct telephone number on your order so we can contact you about your delivery.
Game that is out of season cannot be purchased in advance, but if you let us know what you're after we'll do our best to sort you out when possible.
Deliveries are an extra £5 and we cover Stirchley and the immediate surrounding areas of Kingsheath, Selly Oak, Selly Park, Ten Acres, Moseley and Cotteridge.
Collections
Collection may be the preferred option if you are within walking distance of us to save on extra CO2 from mileage. It is also free! When your order is ready, if you selected Collection we will call you and arrange a suitable day and time. Please ensure you leave the correct contact telephone number on your order so we can contact you about your collection.
Our collection address is:
1234 Pershore Road
Stirchley
Birmingham
B30 2YA
This is a residential address and not a storefront (the shop is in the back and inaccessible) so collection is by appointment only.

Due to COVID-19 we are NOT currently offering tours of the facility in person. But you can check it out in our videos section.